Echo Lodge is a three star lodge and is conveniently located along the Trans Kalahari. The road to Kang is accessable by all vehicles. Echo Lodge makes for a great stop over facility for a tired driver. Leave the lodge feeling refreshed and revitalized.
email: kang@go.botswanatravelservice.com

Accommodation at Echo Lodge Kang

Features of Echo Lodge:
The facilities we provide include 3 double rooms and 7 twin rooms in chalets around the lodge, therefore there are 20 beds.
All the lodge rooms are fully air-conditioned with Digital Satelite Television (DSTV), a reading table and a small closet insuring to making your stay more confortble.


Some ideas of what to do at Echo Lodge:
Enjoy a meal at Echo lodge restaurant. They boast an a La Carte and buffet menu. Buffet option is available depending on occupancy. The restaurant can seat up to 100 people to enjoy a tasty meal in an air conditioned atmospher.
We also have a curio shop which specializes in Basarwa and Bakgalagadi indigenous art and crafts. Internet access is available on request and same day laundry facilities.


Where is Echo Lodge?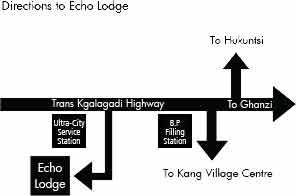 Echo Lodge Prices
Prices are per
Room Type

High
Season

Mid Season

Low Season

Price on request

Price on request

Price on request

Price on request

Price on request

Price on request

Price on request

Price on request

Price on request

Price on request

Price on request

Price on request

Price on request

Price on request

Price on request

Price on request

Price on request

Price on request

Price on request

Price on request