Places and towns in Botswana
Bobonong a useful stopover en-route to the Tuli Block from central Botswana
Central Kalahari Game Reserve 52,800 km² of protected semi-arid desert and wildlife, the second largest game reserve inthe world
Francistown one of the oldest towns in Botswana with all the main roads to Gaborone, Zimbabwe, Maun and Kazungula passing through it
Gaborone Gaborone is a bustling modern city, and the seat of power for one of Africa's most successful economies.
Ghanzi "The capital of the Kalahari" must be one of Botswana's most intriguing towns - situated in the middle of nowhere and separated from the rest of the world by hundreds of kilometres of road.
Gumare in the Okavango Panhandle (western Okavango Delta) on the road north to Shakawe. Gumare is the access point for Nguma Island and the Guma Lagoon.
Gweta a small, old village about 2km south of the road between Nata and Maun conveniently situated for exploring Makgadikgadi and Nxai Pans
Jwaneng An important mining town close to Botswanas diamond mine located along the A2 Transkalahari Highway road
Kang A stopover village in the middle of the Transkalahari Highway
Kanye Town is along the Transkalahari A2 road - mainly used for fuel or for an overnight stop
Kasane Kasane is superbly located near Chobe National Park Situated near the confluence of the Chobe and Zambezi rivers, and close to Botswana's borders with Namibia, Zambia and Zimbabwe
Kazungula Kazungula is an ideal place for a stopover on the way to Victoria Falls, Namibia, Zambia, Hwange Park Zimbabwe as well as a base for exploring the nearby Chobe National Park.
Letlhakane Small village south of the Makgadikgadi pans access to Lekhubu island is from here
Linyanti
Lobatse Border town with South Africa in the south-east a busy commercial border
Mahalapye Small town along the main A1 road between Francistown and Gaborone
Makgadigadi Pans Large flat pans in central Botswana amazing experience to camp out on the pans or at a famous Baobab island
Mamuno border town on the west of Botswana along the Transkalahari Highway
Martins Drift border with South Africa in the east along the Limpopo river
Maun gateway to the unforgettable Okavango Delta Maun has grown rapidly from its early days as a small, rural frontier town It boasts good shopping centres, hotels and lodges as well as car and 4-wheel drive vehicle hire
Mokolodi Nature Reserve Private, non-profit game reserve 10km South of Gaborone
Nata This small village at the crossroads for routes north and west provides an important refuelling and stop over service to travellers to Kasane or Maun.
Ngoma Border post in the north of the country for crossing into Namibia
Palapye A fast growing town between Gaborone and Francistown along the A1 main road
Pandamatenga a small village in North-West District, Botswana. It is located close to the country's border with Zimbabwe, whose border post is also known as Pandamatenga.
Pont Drift Border in the east with Limpopo province of South Africa
Selebi Phikwe also known as Selibe-Phikwe. Originally two tiny places called Selebi and Phikwe the mining town of Selebi Phikwe was formed when a copper and nickel deposit was found in the area.
Serowe one of Botswana's largest traditional villages and well worth a visit. It is set against rocky hills to the east. Just outside Serowe is the Khama Rhino Sanctuary.
Shakawe located in the northwest corner of Botswana popular place forexcellent fishing in the Okavango River a wonderful place for bird watching and ideal for visits to the Todilo Hills and close to the Namibian border
Tsabong also known as Tshabong . Tsabong is Botswana's most southerly town and is the last place before entering the Kgalagadi Park, fuel, basic supplies and a few places to stay.
Tsodilo Hills Mountain of the Gods Botswanas sacred hills in the north west home to over 400 bushman (san people) rock paintings 53km from Shakawe
Zanzibar Border into the Tuli block of Botswana from the Limpopo area of South Africa.
Visa and Border Regulations Information on regulations for crossing the border from and into Botswana
Map of Botswana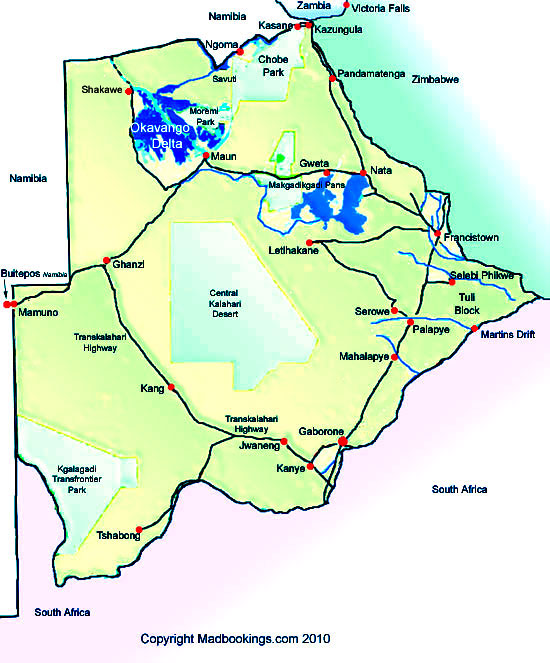 Botswana Border Posts opening times (subject to change)
| | | | | | | |
| --- | --- | --- | --- | --- | --- | --- |
| Border Name | Opens | Closes | | Border Name | Opens | Closes |
| Bokspits | 08h00 | 16h00 | | Hereford / Bray | 08h00 | 16h00 |
| Kazungula | 06h00 | 20h00 | | Makopong | 08h00 | 16h00 |
| Mamuno | 07h00 | 00h00 | | Martin's Drift | 06h00 | 22h00 |
| McCarthy Rest | 08h00 | 16h00 | | Middlepits | 08h00 | 16h00 |
| Mohembo | 06h00 | 18h00 | | Ngoma Bridge | 07h00 | 18h00 |
| Pandamatenga | 06h00 | 17h00 | | Parr's Holt | 08h00 | 16h00 |
| Phitshane Molopo | 07h30 | 16h30 | | Platjan | 08h00 | 16h00 |
| Poineer Gate | 06h00 | 00h00 | | Pont Drift | 08h00 | 16h00 |
| Ramatlabama | 06h00 | 22h00 | | Ramokgwebana | 06h00 | 22h00 |
| Ramotswa | 07h00 | 19h00 | | Sikwane | 07h00 | 19h00 |
| Tlokweng | 06h00 | 00h00 | | Zanzibar | 08h00 | 16h00 |
| | | | | | | |
National Parks and attractions of Botswana
Chobe National Park covers over 11,000 Sq Km and is home to Botswanas most varied wildlife. The river to the north supports the greater numbers of wildlife but the marshy areas to the south Chobe provide beautiful habitat for wildlife and many water birds. For visiting Chobe a 4WD vehicle is required.

North of the Okavango Delta is The Moremi National Park, camps inside are unfenced and roads require a 4wd all year, but the game viewing and wilderness is worth it.

The Khama Rhino Sanctuary Trust is a community based wildlife project, established in 1992 to assist in saving the vanishing rhino, and provide economic benefits to the local Batswana community through tourism and the sustainable use of natural resources.
This amazing area is always worth a visit vast flat pans in the middle of Botswana. From May through to November the Parks are home to herds of zebra, springbok and wildebeest. When the rains arrive the grazing herds, with lion, cheetah and hyeana following, move north across into the extended Nxai Pan National Park.

Crystal clear flowing channels of water wending their way through reeds, papyrus and water lilies, lagoons bursting with life including hippos, crocodiles, elephants, birds, fish and amphibians, palm studded islands sticking out from this remarkable landscape and clear star studded night skies over this unpolluted tapestry of life.

The Central Kalahari Game Reserve is the second largest game reserve in the world. The gentle landscape is home to predators such as cheetah, wild dog, leopard, lion and brown hyena as well as many antelope species, giraffe and warthog.
The Kgalagadi Park is one of the worlds largest and most prestine wilderness areas. Although semi desert it supports a large variety of wildlife and birds. Among the predators you can see are the dark mained Kalahari lions, cheetahs, leopards, wild dogs, hyenas, jackals and bat eared foxes. The landscape is characterised by red sand dunes and sparse vegetation.

first places you will want to include on your holiday to Botswana. At a staggering 22,270 square kilometres, it is one of the largest National Parks in Africa.
The Tsodilo Hills are referred to as the sacred hills, in the far northwest of the country, basic camping is available, otherwise visit on a day trip from Shakawe. 4wd only.

The Trans Kalahari Highway runs across the southern section of Botswana linking up South Africa, Botswana and Namibia, opening up trade and tourist routes right across the southern continent. Connecting Johannesburg to Windhoek by 1362km of tar road